May 17 celebrations in Trondheim
The traditional May 17 parades in Trondheim have been cancelled due to the corona pandemic restrictions. Thanks to the May 17 Organizing Committee and their partners all over Trondheim there is an alternative, digital programme for the national day celebrations.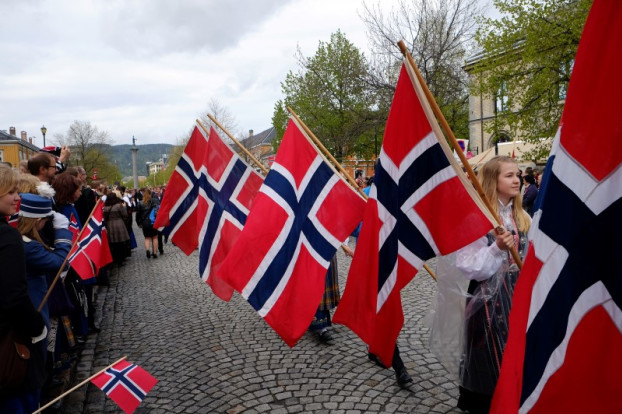 You can watch most of the events on our website on May 17th. We hope you will be able to find your way to the events, although some of the information is in Norwegian only.
Here is some basic information in English:
Programme May 17, 2020
(Subject to change. For updated version, see our site in Norwegian)
08:00 - 09:30 a.m. Memorial wreaths will be laid down. The ceremonial speeches on these occasions have been videotaped in advance, and you can watch them on our Norwegian website (see link above).
08.00 Flag hoisting at Kristiansten fortress. Music by The Air Defence Band.
10.30 The chair of the May 17 committee, Ms. Sissel Trønsdal, will welcome everybody to the celebrations.
10.45-10.50 Glimpses from some of the city's kindergartens
We visit some kindergartens and ask about their celebration plans. Will there be plenty of ice cream and soda as usual on May 17th - now that everything else is unusual?
11.00-11.45 The digital school parade
Follow the parade on our Norwegian website, on Facebook, www.adressa.no and www.nidaros.no.
The municipality's cultural unit and comedian Klaus Sonstad will invite you to watch the digital celebrations.
There will be cultural presentations from primary schools around the city. Visits to Ila elementary school and Hallset elementary school, both celebrating anniversaries this year. In addition, we will visit the school at St. Olav's hospital.
Join us for a different preschool parade this year. Enjoy the good atmosphere and great features from the city's primary schools.
11.45-11.55 Main speech by violinist and honorary citizen of Trondheim, Mr.Arve Tellefsen.
Violin performance by Arve Tellefsen, "A visit to a summer mountain pasture" by Ole Bull.
12.00-12.10 p.m. Speech by Mayor Rita Ottervik and Mayor of the Youth City Council, Selma Mogstad Leraand.
12.10-12.15 Pictures from Trondheim, accompanied by music.
12.15-12.20 Speech to HM The King, by Vilde Haarberg.
12.20-12.25 The upper secondary schools graduates' speech, by Hanne Regine Søyseth.
13.00 Salute of the day and National Anthem sing-along
Salute from Kristiansten fortress. Follow the salute on NRK's ​​May 17 televised broadcast. After the salute you are invited, to join in with people all over the country to sing the national anthem: "Ja, vi elsker dette landet".
You can sing along wherever you may be: for instance from your lawn, in the street or out on your balcony.
13.10 For one and half an hour, Trondheim will be filmed from above by helicopter. We encourage all of you to wave your flags from balconies, lawns and streets.
13.15 Vintage car procession
For about two hours, a procession of vintage cars, headed by a 1955 vintage fire truck will drive this route:
Grilstadfjæra - Skovgård - Hørlocks veg - Jakobsli - Angelltrøa (approx.13.30, Gamle Jonsvanns veg) - Veiskillet - Brøset - Bromstad- Valentinlyst (approx. 13.35) - Tyholt - Dybdals vei - Nardo - Risvollvegen Approx. kl. 14.00) - Venusvegen - Fossegrenda - Okstad (approx. 14.15) - Tonstad - Østre Rosten - Vestre Rosten - Johan Tillers veg - Heimdal (approx. 14.30) - Søbstadvegen - Saupstadringen (approx. 14.40) - Granåsen - Stavset - Kystadlia - Selsbakklia - Nordre Hallset - Munkvoll (approx. 14.50) - Havstad - Nyborg - Breidablikkvegen - Byåsvegen - Ila - Marienborg (approx. 15.00) - St. Olav's Hospital (approx. 15.15).
In Klæbu, a separate vintage car procession will take place during the same period.
14.30-15.00 Opera Trøndelag and Trondheim chamber opera "Norway in red, white and blue". Highlights from the party performance for the celebration of the Constitution's 200 years' anniversary in 2014.
18.00 May 17 Concert. Featuring Trondheim Symphony Orchestra (TSO)
The concert is broadcasted on TSO Play, adressa.no, TSO Facebook and Olavshallen Facebook.
Soloists: Henning Sommerro, Karianne Sommerro, Arve Tellefsen, Color Games, Marja Mortenson, Trondheim.
Vocal ensemble, TSO choir and TSO. The two choral works with the Trondheim Vocal Ensemble are broadcasted from the Nidaros Cathedral.
You can watch it all through links on our website in Norwegian.
Sist oppdatert: 04.09.2020