Welcome back to school
On Monday, April 27th, grades 1 - 4 in the elementary schools of Trondheim Municipality will reopen. After several weeks of homeschooling, we guess many children are looking forward to see each other again.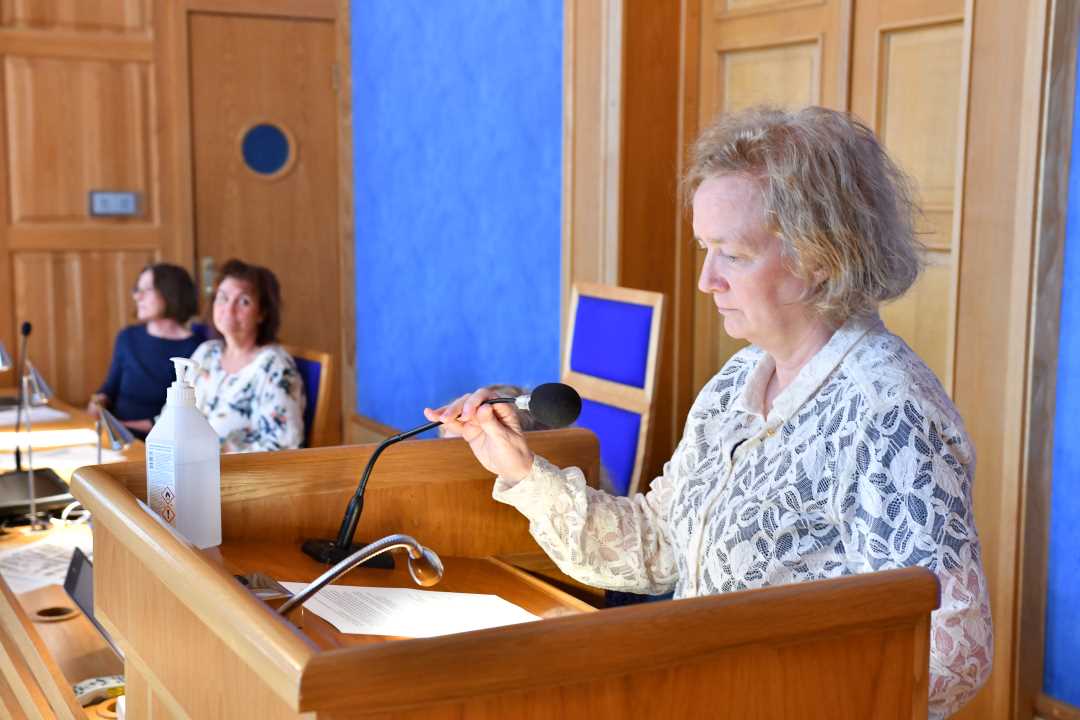 Trondheim municipality invited parents and guardians to post questions regarding the schools' reopening. We got a lot. Some of them were answered (in Norwegian) during a televised programme on the municipality's channel.
Here is the programme: https://trondheim.kommunetv.no/archive/491
Other languages
Panel answering the questions
Camilla Trud Nereid, Director of upbringing and education
Eva Elisabeth Belboe, Municipal school manager
Betty Johanne Pettersen,

Chief public health officer

Torgunn Reitlo Malmo, Psychology specialist
Trude Mathisen, Headmaster at Ila skole.
Some of the Questions and answers on school opening, Monday, April 27
- Why do schools open only to grades 1 - 4?
Municipal Director of education Camilla Trud Nereid: We put the infection control considerations first. Some new routines and organizational matters need to be in place, for the school staff and pupils to be safe enough. Starting with the youngest pupils is about them being the ones that are the hardest to reach only through digital teaching. The Institute of Public Health recommended reopening for grades 1-7, and the government's goal is the full opening of schools some time during this school year. We are particularly concerned about the 10th grade, which now has its final year in secondary school under completely extraordinary conditions.
- Do the pupils' groups have different delivery/ start up time?
Municipal Director Camilla Trud Nereid: There is great flexibility in terms of start-up time, length of school day and SFO. It is important to keep a close dialogue at each individual school, with employees, union representatives and safety representatives, and not least with guardians, to find the best solution. At the same time, the municipality as school owner must ensure that the service quality is equally good regardless of the solution chosen locally.
- Is attendance mandatory?
Municipal Director Camilla Trud Nereid: In Norway education is compulsory, which means that you have to attend school if there are no specific reasons for not doing so. Homeschooling is also permitted under the supervision of a parent, but we strongly recommend that the children attend school.
- Is it possible to continue with homeschooling if one has the opportunity (for example, for parents who are on parental leave or are not working)?
Municipal Director Camilla Trud Nereid: When the school reopens, the staff will teach the children who come to the school. We can't run double races with just one set of staff. Children who have to stay at home due to illness over a long period of time will get an adjusted teaching possibility. This is normal procedure.
- Will my child be registered as absent if we continue with homeschool?
Municipal Director Camilla Trud Nereid: If parents have taken over responsibility for the child's education themselves, the child will no longer attend school and will not be absent. In this case the guardians must contact the municipality, and register to take responsibility over training themselves. If children who are healthy and able to attend school are kept at home, without the parents having taken over the teaching, absence will be recorded.
- What are the opening hours at school and SFO?
Municipal School Manager Eva Elisabeth Belboe: It is important for the municipality to take care of infection prevention and to welcome the pupils in line with the national regulations. To achieve this, there may be a need to reduce some of the time spent in SFO. We leave it up to the schools to decide on this, in collaboration with staff, user councils, FAU, union representatives and safety representatives on each unit. We recommend opening hours between 8 am and 3.30 pm (15.30). In any case, pupils with guardians who have socially critical function jobs and pupils in vulnerable situations will be taken care of. The main rule is that infection control takes precedence over full opening hours.
- If reduced opening hours at SFO, is the payment also reduced?
Municipal School Manager Eva Elisabeth Belboe: No, the parental payment will be similar to the one that was before, and in line with the price that was originally agreed, regardless of the number of hours that the offer includes today. But if the child brings his / her own lunches at SFO - which we would like them to do during the first few weeks - we will reduce the dietary allowance.
- Will the school bus / school transport scheme be as usual?
Municipal School Manager Eva Elisabeth Belboe: Yes, we have had a close and regular dialogue with the bus service AtB on how the shuttle should take place, and it will be as usual. AtB has created an "Infection Protection Info" that tells you how to work with infection prevention in the school transport. This information also contains guidance to schools, students, parents and drivers. I recommend you look into it.
- How should the school day be organized with a view to preventing infection?
Headmaster Trude Mathiesen: The instructions guide is very clear, and it gives us good advice and guidance. We are organizing the kids so that the infection protection is taken care of, with group size of up to 15. It is about hygiene measures, and it is also about who can and cannot attend school. Schools are different, both buildings, outdoor area and surrounding areas. Facilities such as wardrobes and toilets and so on are different, so the solutions will vary from school to school. Yet we follow the advice and guidance given.
- How do you manage to accommodate 15 students per classroom with one meter distance between them?
Headmaster Trude Mathiesen: This will also vary from school to school. At Ila school we have a small and narrow school. We really need to organize and plan this very detailed and carefully. What we start with now is to clear away all unnecessary things from the classroom. Then we spread the desks so that we can manage . We can keep only what is absolutely necessary in the classrooms. It is also recommended to have a lot of outdoor activity.
- How can we be sure that teachers and milieu therapists manage to keep track of the children, so they are not too close when the groups are as large?
Headmaster Trude Mathiesen: It is about good and careful planning. The degree of detail is almost endless, but this is what we will achieve. There are regular groups and the same adults throughout the school day. This is about organizing. For instance, not everyone can be outside at the same time.
- How will the school breaks be organized? Everyone out at the same time or in heats?
Headmaster Trude Mathiesen: We got to divide into heats. Schools with a larger outdoor area can probably have more heats outside at a time than we can in our school at Ila.
- What should parents do if we do not want to send our children to school before the summer holidays?
Psychology specialist Torgunn Reitlo Malmo: There may be various reasons why you want to keep your kids at home. There may be fear of infection, being laid off from work or having the opportunity to follow up on homeschooling. The child may enjoy being in school at home or gets schoolwork done as usual, or the kid may refuse to go back to school.
Some children may need a more gradual transition and adaptation after a long break from school. If so, it is important that the parents engage in dialogue with the school about this. Many children may react slightly differently than usual now, showing stronger or weaker emotional reactions. It is also common for young people to seek more comfort, support and closeness in times when there is much turmoil around them. It is important that we adults understand and accept that. There is no automaticity that the kid is afraid of exactly the same as you, so we have to listen to what they are actually afraid of. Children can also take on their parents' concerns. They interpret what parents are afraid of, and they can also make thorough mistakes in their interpretations.
- Should children with at-risk parents continue with homeschooling?
Municipal doctor Betty Pettersen: It depends on what kind of medical assessments are behind. Criteria have been created for this, and it depends on what kind of underlying illness the parents have and how regulated it is. The treating physician must help parents to assess. If illnesses are well regulated and treated, the child can be at school. In the case of serious illness, adapted education, even home education, can be assessed and mapped in consultation with the school.
- Do we need a medical certificate to keep the child home from school when one or more members of our family have asthma and other underlying illnesses?
Municipal doctor Betty Pettersen: If the child has asthma and it is well regulated, the child can come to school. If parents have a serious and unstable illness, we can go into the process of adapting measures for the child. Then we will need a medical certificate.
- How often should contact points be cleaned, and who will be responsible for this? What about playground equipment and the like? Should they be sprayed / washed before and after use?
Municipal School Manager Eva Elisabeth Belboe: The instructions establish 2-4 times per school day. This will be a collaboration between cleaning and teaching staff in schools and kindergartens. The cleaners will clean thoroughly while the staff wipe off as well. Every day the cleaners will clean all surfaces thoroughly. The same children will have access to the same toys for a period of time and the toys will be cleaned after use.
- What are the routines for cleaning after the end of the school day? And will all school supplies and desks, chairs, benches, etc. be washed / disinfected for a new school day? Who is responsible for this?
Municipal School Manager Eva Elisabeth Belboe: According to the instructions the students should dry desks themselves. Cleaning prepares the premises in a clean condition before school starts. The schools have direct contact with the cleaners and agree directly with them if anything should occur. We also have a good working relationship with the cleaners' manager, so we are sure we will manage this.
- How can the school guarantee that my child will not be infected with covid-19?
Psychology specialist Torgunn Reitlo Malmo: I understand the need for a guarantee. When we are scared we seek guarantees, we want to reduce uncertainty in order to secure ourselves. However, there are few things in life we ​​can guarantee. We cannot guarantee that the child will not be infected, but the likelihood is considered very low, due to good infection control measures.
PS. Parents and guardians are also encouraged to contact their school if wondering about anything regarding the school opening.
Sist oppdatert: 27.04.2020