Booking a vaccination appointment
You can book an appointment for a vaccination by filling in the digital form or calling the corona telephone service. The local authority will contact you when it is your turn to book an appointment. Here you will also find updated information about which age groups and risk groups have their turn to be vaccinated.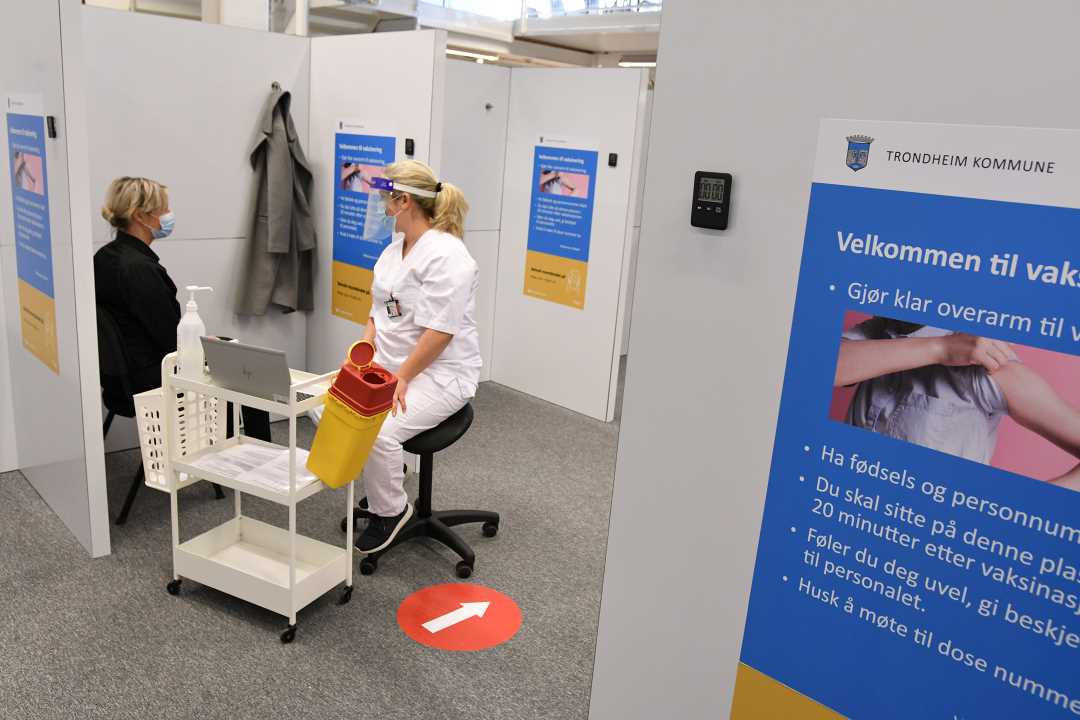 At the vaccination clinic at Sluppen more than 250 people can be vaccinated at the same time.
If the vaccination is given in two doses, you book the first and second dose at the same time.
You will not be given a vaccination if you have not booked an appointment first.
Digital form for booking an appointment
After you have been notified by the local authority, you can use the digital form to book the day and time for your vaccination.
Log in to book your vaccination
NOTE: You will have to use your BankID (using a code token device or your mobile telephone) to log in.
Next-of-kin can book for you by logging in using their BankID.
Telephone
If you are unable to book online, you can call the corona telephone: 90 50 90 52.
Who will be receiving the coronavirus vaccine now?
Now, inhabitants born in 1956 and earlier, and persons between 18 and 64 years of age with an illness or conditions with a high risk of serious effects of covid-19 can book an appointment for a vaccination.
Risk groups
GPs have prepared lists of their patients at risk and given them to the local authority. People in risk groups will be notified when it is their turn to book an appointment for a vaccination.
People with these illnesses or conditions have a high risk of serious effects from covid-19:
Organ transplant
Immunity deficiency
Hematologic cancer during the last five years
Other active cancer illnesses, current or recently terminated cancer treatment (particularly immune-depleting treatment, radiation treatment of lungs or chemotherapy)
Neurological illnesses or muscular diseases that reduce the ability to cough or affect lung functioning (such as ALS, cerebral paresis and Downs syndrome)
Chronic renal illness or significantly reduced renal function
Vaccines used in Trondheim
The vaccine from Pfizer is now being used in Trondheim.
Cancelling an appointment
If you are unable to come to the time and place that have been booked, you can call 90 50 90 52 to cancel the appointment.
What do I do if I need an interpreter?
You have the right to an interpreter. An interpreter is free of charge.
If you need an interpreter, contact the corona telephone service: 90 50 90 52. They will book an appointment and an interpreter for you.
Interpreters and health personnel are under the duty of confidentiality. This means that they will not disclose any information about your health.
Have you completed your vaccination - what now?
After receiving both doses of the vaccine, in a short time you will have achieved optimal protection against covid-19. This means that for the time being you must still comply with the recommendations and restrictions that people who have not been vaccinated must follow, such as using a mask when this is required or recommended, limiting your travel and having few social contacts.
Have you had covid-19?
If you are or have been infected with covid-19, you cannot take the vaccine until you are infection-free for at least three months. Anyone who has been infected must not be given more than one dose, regardless of which vaccine is used.
Other languages
ستتصل بك البلدية عبر رسالة نصية sms قبل أن تتلقى لقاحًا ضد كورونا - arabisk
La commune vous contacte par sms préalablement à l'injection de votre vaccin contre le
coronavirus - fransk
Prieš skirdama vakciną nuo koronaviruso savivaldybė su jumis susisieks SMS žinute - litauisk
با شما تماس خواهد گرفت. sms قبل از دریافت واکسن ضد کرونا، شهرداری از طریق پیامک - persisk
Gmina skontaktuje się z Tobą wysyłając wiadomość SMS o szczepionce przeciwko covid-19 - polsk
Муниципалитет свяжется с Вами по смс, перед тем как Вам должны будут поставить прививку от Ковид-19 - russisk
Ka hor inta aan lagu siin tallaalka koroonaha waxay degmadu ku soo diraysaa misij - somalisk
پەیوەندیت پێوە ئەکات sms بەر لەوەی ڤاکسینی دژ بە کڕۆنا وەربگریت، شارەوانی لە رێگەی کوورتە پەیام - sorani
El Ayuntamiento le enviará un SMS cuando le toque la vacuna contra el coronavirus - spansk
Manispaa itawasiliana nawe kwa ujumbe mfupi kabla ya kupokea chanjo dhidi ya korona - swahili
Ang munisipalidad ay makipag-ugnayan sa iyo sa pamamagitan ng mensaheng text bago ka makakatanggap ng bakuna laban sa corona - tagalog
ክታበት ኮሮና ንምውሳድ ኮሙነ ኣቀዲሙ መልእኽቲ ክሰደልካ እዩ - tigrinja
Koronavirüse karşı aşı yaptırmadan önce belediye sizinle bir metin mesajı göndererek iletişim kuracaktır - tyrkisk
آپ کے کورونا مخالف ویکسین وصول کرنے سے پہلے میونسپلٹی آپ سے متن پیغام کے ذریعے رابطہ کرے گی - urdu
Sist oppdatert: 03.05.2021