These corona rules now apply in Trondheim
Local regulations in force up to and including 22 June 2021.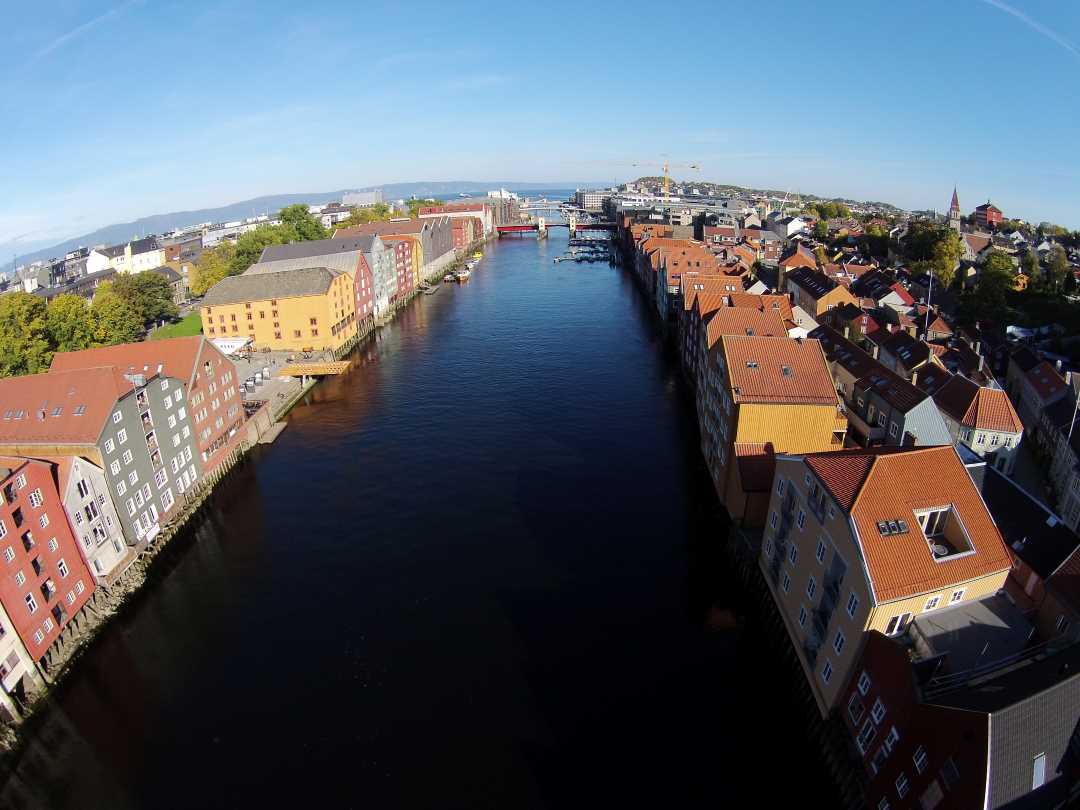 Brief summary of the local regulations in force in Trondheim from 6 pm on Tuesday 15 June
At least two metres' distance must be maintained between people working out in gyms/fitness centres.
There is a limit on participation in events.
Serving of alcohol must stop at 10 pm, and no admittance of new customers after 9 pm.
Alcohol may only be served to those who order a minimum of a main course.
All cafes, bars and restaurants licensed to sell alcohol must register all customers individually on arrival.
Restrictions on participation in sports and recreational activities for adults.
Masks must be worn in taxis and when taking public transportation.
It is recommended to wear masks if the minimum distance cannot be maintained.
Below you can read more details about these regulations and recommendations that have now been adopted by the executive committee.
Rules and recommendations for Trondheim
Social contacts
It is recommended to limit the number of social contacts to ten persons per week (this does not apply to your household, work or school).
What is meant by "social contacts"?
This recommendation is intended to reduce the spread of infection among the population. It is impossible to describe all possible activities or social encounters a person has in the course of a week in regulations or a document such as this.
The most important step is to keep your distance from others and to meet as few people as possible. If we all do this, we will have much more control over the spread of infection. It can make a big difference if we use common sense and are extra careful.
People you meet
"Social contacts" simply means people you meet and socialise with. Social contacts are people of all ages, including children. For all practical reasons, this applies to people you meet indoors and to whom you are closer than one metre for more than 15 minutes. If so, they count as one of the ten in your "quota" in the course of a week, i.e. seven days.
Thus if you meet Per and Kari in a café on a Monday afternoon, they count as two social contacts. If you take an evening drive with Ole on Wednesday evening, you have recorded a third social contact. In this way you add together the number of social contacts in a week until you come up to ten. If you have met ten people in this period of seven days, you must wait before you can have new contacts until the seven-day period is over. When seven days have passed, you can meet ten new contacts.
Not the people at work or school
Do not count those you meet in connection with work or school
You should not include the people you live with, that is your own household, nor those you meet in the shop (where you of course maintain a good distance).
Children who go to sports practice, training or similar, and meet others there, are not to be included in this number.
Please keep this in mind
The simplest way of dealing with this is to count social contacts as persons you have contact with that are closer to you than one metre for a time of more than 15 minutes.
Private get-togethers in your home
It is recommended to have a maximum of ten guests in your house.
People protected against the coronavirus are not included in this number of ten persons. Protected people are those who have been fully vaccinated, those inoculated with one dose at least three weeks ago, and those who have been sick with corona in the last six months.
All those who are not in the same household should keep a distance of at least one metre.
Children in kindergartens and primary schools may have visitors from their cohort and are not included in the limitation on social contacts.
Masks indoors in public areas
It is recommended that adults and young people 12 years or older use a mask indoors in shops and shopping malls, cafés and restaurants, churches and meeting halls and in cultural, sports and recreational-activity premises.
This also applies to employees where it is impossible to maintain a distance of one metre from visitors.
Masks in enterprises offering hairdressing, skin care, tattooing and piercing services etc.
It is recommended that employees and customers (adults) and young people 12 years old and up should use a mask if it is impossible to maintain a distance of one metre. Customers may remove the mask if this is required for carrying out the treatment/service.
Masks in taxis and when taking public transportation
Passengers must wear a mask in taxis.
The mask must be put on before the passenger enters the taxi, and must not be taken off until the passenger has vacated the taxi at the end of the trip.
The obligation to wear a mask applies in the same way to the taxi driver when there are passengers in the taxi.
A mask must be worn when taking public transportation and when in indoor station areas if a distance of one metre cannot be kept from other travellers.
The obligation to wear a mask does not apply to children under 12 years of age, or to those who for medical or other reasons cannot wear a mask. This applies in taxis and when taking public transportation.
Sports and culture
For people 20 years of age and older, organised sports activities are limited to up to 20 people with at least one metre's distance indoors, or 30 people with at least one metre's distance outdoors.
This also applies to such recreational activities as organised practice, training and rehearsal for choirs, bands and theatre groups.
Organised training for professional sports athletes indoors and outdoors is permitted with no restriction on the numbers.
In the guide issued by Trondheim local authority for sports and culture you will find updated information about the rules and measures in force.
Events
Even if the requirements in section 13c of the national covid-19 regulations for maintaining a distance are satisfied, no events are to be arranged with more people physically attending at the same time than:
Private get-togethers
Twenty people indoors or 30 people outdoors in private get-togethers, however, where children in the same cohort in kindergarten or primary school can meet, with the required number of adults as facilitators.
Indoor events
Up to 50 people may now come together in indoors events, but with the following exceptions:
100 people at events where participants under 20 years of who live in the same municipality are gathered. This also applies to events where participants under 20 years of age living in different municipalities are gathered to participate in organised training, practice, rehearsal or similar in the same municipality.
50 people at weddings, funerals, burials and ceremonies at the grave site.
200 people where all are ushered to a fixed place.
Outdoor events
200 people in outdoor events, but up to 300 can be permitted if the audience are all sitting in fixed seats they have been ushered to.
In events with more than 100 people attending, those present must be divided into groups of up to 100 people. The distance between the groups must always be at least two metres.
Groups of up to 100 people can be replaced during the event if this can be done in an appropriate manner bearing in mind protection against infection, and when there is no contact between them.
These are no to be included
The following people shall not be included in the total number of persons permitted to attend an event:
Employees and the people arranging the events.
Performing artists in culture events under the direction of a professional actor.
Professional sports athletes, supporting staff and umpires/referees when taking part in sports events.
Players, supporting staff and umpires/referees when playing league football that the NFF (Norwegian Football Association) has determined are complying with infection-control protocols prepared in collaboration with the Directorate of Health.
Journalists, photographers and other media representatives necessary to provide media coverage of the event.
At events for athletes, performers or participants under 20 years of age, all those attending, including performers and support staff, are included in calculating the total number of people.
Cafés, bars and restaurants
All cafés, bars and restaurants must register each guest on arrival.
Trondheim local authority has the authority to close those cafés, bars and restaurants that do not comply with the requirements for appropriate infection-control operations and with the requirements in this provision, cf. section 4-12 third paragraph of the Act Relating to the Control of Communicable Diseases.
Cafés, bars and restaurants may not serve private get-togethers with more than 10 people indoors or 15 people outdoors.
Licensed cafés, bars and restaurants may only serve alcohol to people seated at tables, and all guests must have a seat.
Alcohol may only be served to people who order food (minimum a main course).
An exception is made for serving alcohol during concerts and theatre performances etc. at established cultural arenas where the cultural event is the purpose of the visit and a ticket must be purchased for the performance.
Licensed cafés, bars and restaurants may not admit guests after 9 pm, and serving of alcohol must cease at 10 pm. Consumption of alcoholic beverages must cease at the latest 30 minutes after this.
Home office
It is recommended that employers make it possible for employees to work from home as far as practically feasible and appropriate bearing in mind the nature of the work.
Schools and kindergartens
Schools and kindergartens will continue to be operated on the amber level in Trondheim,
but are under continuous assessment according to the infection situation at any point in time.
Upper secondary schools
Starting on Monday 14 June, upper secondary schools in Trondheim will be operated on the amber level.
Travel
Traveling between municipalities
Trondheim municipality recommends its residents not to travel unnecessarily across municipal boundaries.
You can check the advice and recommendations that apply to other municipalities on the website of the relevant municipality.
Travel advice for the whole country
Travel abroad is not recommended. Strictly necessary trips can be made.
Avoid unnecessary domestic travel. This is especially important to and from areas with high infection pressure.
You can travel to a cabin (owned or rented) or hotel domestically, but avoid public transport if possible.
Travel to work and study can be considered a necessary trip.
People who travel to municipalities with less strict measures should follow the recommendations that apply in the municipality in which they live as usual.
Quarantine hotel
The government has tightened the rules for quarantine hotels for those who return home after unnecessary trips abroad.
People who return to Norway after unnecessary trips abroad must spend the entire quarantine period in quarantine hotels.
Corona rules and regulations in Trondheim
Link to national rules and regulations
Link to the government's various steps for reopening the country
Sist oppdatert: 16.06.2021